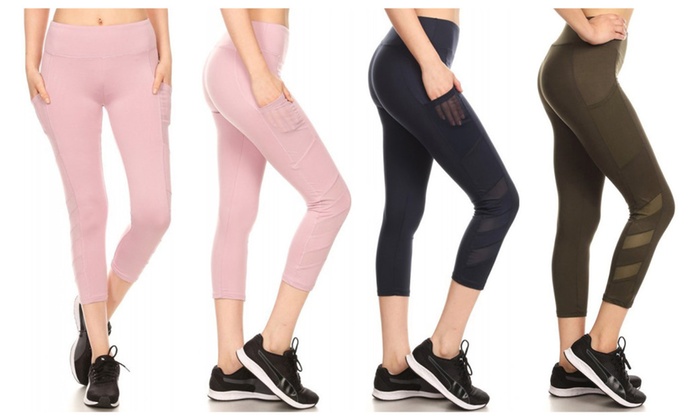 Manufacturers left no stone unturned in their pursuit to create the most comfortable yoga apparel possible. The options are seemingly infinite: high-waist capri leggings, yoga pants, and full-length yoga leggings, all available in an endless selection of colors. Whether you browse from the comfort of your couch or in a brick-and-mortar store, you'll likely find yourself overwhelmed at all of the possibilities at some point in your shopping excursion.
If you've already narrowed down your search to a simple pair of yoga leggings, the next question is really whether you want cropped leggings (sometimes better known as capris) or full pants that hit around the ankle. Many times, the best option for yoga apparel will depend on your personal preferences, but is there a significant benefit to one of these styles?
Yogis seem to be gravitating more toward capri leggings than towards the ankle-length counterparts for a reason. Their practices are often safer when donning a shorter pair of pants.
Particularly for individuals who are smaller in stature, ankle-length pants could hit slightly below the ankle. If this is the case for you, you are faced with a handful of choices. You can push them up and allow the leggings to bunch at the ankle, roll them up, or allow them to cover the back part of your heel. Bunching them up and rolling them both give a sloppy appearance to your otherwise polished outfit.
Allowing the leggings to cover the back part of your heel can border on dangerous.
Consider what would happen if your leggings covered a portion of your foot while taking a Warrior II pose. In a wide-legged stance, particularly, if you're holding it for a period of time, you may eventually find your front foot slipping outward. Stretching your hips and quad muscles this way can cause pulled or extremely sore muscles and should be avoided at all costs.
The other primary benefit to capri leggings versus full pants is the heat factor. Cropped leggings allow for more skin exposure, meaning, you'll experience a slightly cooler practice. By allowing yourself to remain warm instead of reaching a point of being overheated, you can focus more on the quality of your practice instead of seeking a break from the heat.
You may prefer the full-length yoga leggings if your practice is gentler than a hot yoga, Bikram, or Ashtanga practice. If you know that you tend to feel chilly on your mat throughout the practice, you may decide to go with the ankle-length yoga workout leggings if you can find a pair that fits you lengthwise.
Ultimately, the decision between capris or pant-style leggings will be a personal choice based on your practice style. However, capris could be a safer option to prevent slipping out of proper alignment during even the most basic poses. Safety should be the highest consideration during your yoga practice, and capris can help ensure that you continue practicing safely for years to come.