Matcha, the green powder made from green tea leaves has been around for some time. Only recently, it has been gaining more attention in the wellness space, many deeming it as a superfood. Trendy coffee shops and health food spots are offering matcha options on their menus and many of these you can make yourself at home. Don't think you're limited to drinks and smoothies.
This earthy, rich powder is so versatile, it can be used in coffee concoctions (matcha latte anyone?) and in savory dishes. Be prepared for a major energy boost. Just like a cup of green tea, it will give you a dose of caffeine, matcha has a similar effect. It has half the amount of caffeine than a regular cup of coffee, so it's the perfect pick me up without the jittery caffeine after effects!
1. Matcha Mango Mint Smoothie

Let's start with the easiest, yet refreshing recipes. This drink is pure health, loaded with vitamins and nutrients and of course matcha, our star ingredient!


What you'll need:
3 handfuls of spinach
½ cup of strawberries
½ banana
1 ½ teaspoons of matcha powder
1 cup coconut water
1 cup fresh or frozen mango
1 cup water
15 mint leaves
Directions:
Blend all ingredients in a high-power blender.
Pour and enjoy!
2. Matcha Green Tea Waffles
Don't get turned off by the slime green color! These waffles are sure to be a breakfast or brunch crowd-pleaser and definitely a conversation starter. With this recipe, you will be getting a protein-packed, nutrient-rich option that can be enjoyed any time of the day!
What you'll need:
1 tablespoon baking powder
¼ cup matcha powder
½ teaspoon salt
3 large whole eggs
1 (15.2- ounce) bottle Bolthouse Farms Coconut Protein PLUS
½ cup olive oil
2 medium ripe banana, mashed
1 tablespoon vanilla extract
1/8 cup honey
¼ cup agave syrup
Directions:
In a large bowl, combine oat flour, baking powder, ¼ cup matcha powder, and salt. Whisk together to combine.
In a separate medium bowl, whisk eggs. Stir in remaining ingredients, except ¼ cup agave syrup. Pour into dry mixture.
Whisk together until just combined, small lumps in the batter are gone. Let the batter sit and thicken for 10 minutes while you heat up the waffle iron.
Pour roughly ½ cup batter into center of heated and greased waffle iron. Cook each waffle according to waffle iron directions (3-5 minutes) and serve with syrup.
To make matcha green tea syrup: Combine ¼ agave syrup and desired amount of matcha powder.
3. Gluten-Free Matcha Green Tea Banana Bread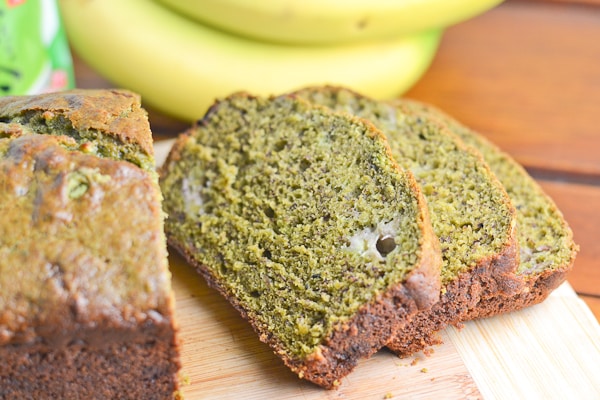 This is a perfect breakfast or afternoon snack option if you have a few overly-ripe bananas handy. You'll get an extra caffeine boost as well, without having to drink coffee. Don't be turned off by the green coloring! The matcha an additional rich flavor that will have your friends and family begging for the recipe.

What you'll need:
2 very ripe bananas
1 1/4 cup (*my flour blend has xanthan gum included. If yours doesn't, add 1 teaspoon)
3/4 cup
2 large eggs
1 teaspoon vanilla
3 tablespoons (*if your matcha isn't sweetened add 3 TBSP of sugar to the recipe)
1/2 cup melted coconut oil
3/4 cup sugar (you can use brown sugar but it will make the color of the bread turn out more muddy colored)
dash salt
Directions:
Preheat the oven to 350 degrees.
Spray coconut oil into a bread loaf pan.
In a mixer, add all wet ingredients. (I just dropped the bananas in whole because they were so soft and ripe.)
Turn on mixer to slow.
Slowly add in dry ingredients a little at a time.
When the dry ingredients are mixed, increase the speed to medium for 1 minute.
Pour the batter into the loaf pan and bake 25-30 minutes until done.
4. Cold Brew Summer Matcha Drink
With summer practically around the corner, what better way to enjoy the warmer weather, sitting poolside than with this cold beverage. This is a great alternative to regular iced tea and iced coffee and just as refreshing!
What you'll need:
1/2 lime (sliced or juiced)
1/2 lemon (sliced or juiced)
few fresh mint leaves
1 teaspoon matcha
16 oz filtered water
ice
good maple syrup (optional)
Directions:
Put ice, water, and matcha powder in a shaker or glass bottle or mason jar.
Shake vigorously for one minute, until matcha is smooth and creamy.
Pour over ice, mint, lemon or lime slices are recommended but optional!
I hope you enjoyed these recipes! Thanks for reading!